Capital of South Korea, Seoul is located at the north-western part of the country on the Han River and is one of the world's largest metropolis with a population of ten million people. This huge metropolis is where modern skyscrapers, high-tech subways, and pop-culture meet Buddhist temples, palaces, and street markets. Notable tourist attractions include Dongdaemun Design Plaza, Gyeongbokgung Palace, Namsan Tower, Bukchon Hanok Village, and much more.
---
Nearby Attractions
Seoul Dragon City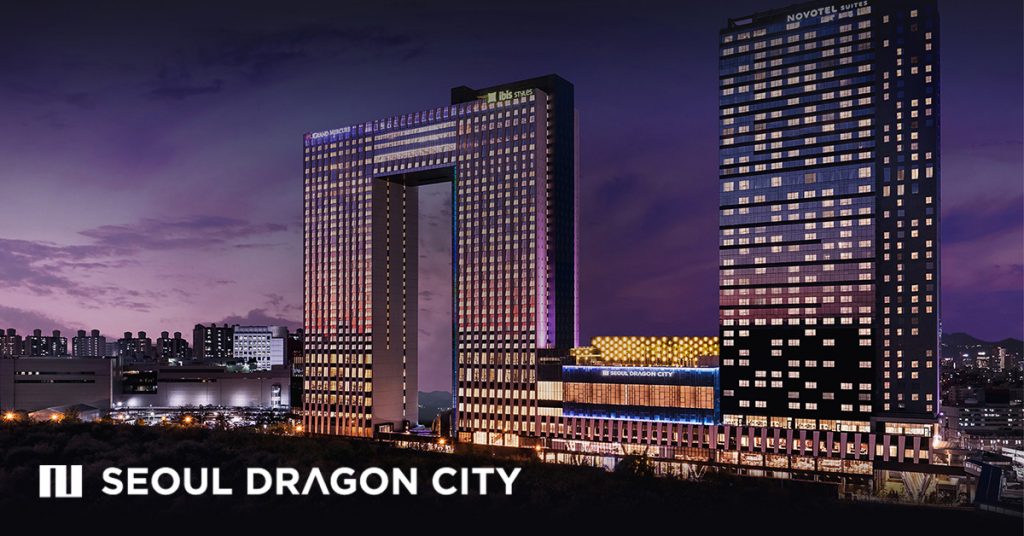 Seoul Dragon City is located within the Yongsan district of central Seoul. Yongsan district is full of historical sites and large parks, including the War Memorial of Korea, which was established to promote the importance of peace, and the National Museum of Korea, the nation's representative museum.
---
Shopping
---
Exhibitions
---
Nature
---
Entertainment
---
Useful information
Tips from Dr. DirkJan HIJNEN(General Chair of ISAD 2018 Utrecht)
After a fantastic trip to Seoul (in October 2018), I wanted to share some suggestions for those who are planning to visit the 2021 ISAD meeting. I think Seoul is a great place to visit, and I would highly recommend to take at least one day extra to visit some of the highlights. (see: discoverseoulpass.com) I arrived one day before my meeting, but would have loved to spend a couple of days strolling around the streets of Seoul.
Money
When you arrive at Incheon airport I would recommend to get some Won (local currency). 100.000 Won was about 80 euro (Oct 2018). Most places accept credit cards, but you will need cash for example to put money on a card for the subway (machines do not accept credit cards).
Transportation from the airport(s)
Seoul has two airports, Gimpo is the older airport which is closer to the city, but most international flights arrive at Incheon airport. From Incheon airport you can easily take the (express) subway (called A*REX = Airport Express). From Incheon International Airport to Seoul Station (central station in downtown Seoul) takes about 1 hour and 15 minutes and costs only about 5 euro. The A*REX is much cheaper and more convenient than a taxi/bus (because traffic in Seoul, with more than 10M people)! Please see:
The subway is really easy to use, but like in most cities it may takes a couple of rides to get familiar with the signs (all signs are both in Korean and English). Make sure to ask for a free subway map at one of the information desks at the subway entrances (or download the map on your phone (app). I found that traveling by subway was completely safe, clean and comfortable. You can use the Discover Seoul Pass for the subway (see below). Also see –
City / Museums / Palaces
If you plan on visiting museums / palaces / viewpoints I would recommend to buy a Discover Seoul Pass for 24, 48 or 72 hours. You can buy it online and pick it up at the airport (or buy it at the airport or downtown). Please see: https://www.discoverseoulpass.com. The time (eg. 24 hours) will only start running when you go to the first tourist attraction. Please note that you can also use this card for the subway (including the A*REX/airport express) but you will need cash to top it off first. By using the app you can prepare your trip and make a selection of the highlights for easy reference.
I also walked through downtown Seoul after 9 PM when it was completely dark, but never felt unsafe. There were some homeless people in the area around Seoul station (not in other parts of town), but they never approached me, or made me feel uncomfortable.
Internet
My telecom provider (Vodafone) did not have a good deal/package for use in Seoul, but you can easily rent a WIFI-egg (portable wifi hotspot) for only a few euro's per day (about 4 euro per day) from the airport (see picture for location). The South Koreans are proud of having the fastest internet connection in the world and have great coverage. You can pick up your pre-ordered Discover Seoul pass or buy one at the same desk in the arrival hall on Incheon airport (see photo below).
ETC
Seoul is divided in two parts; north and south of the river (Gangnam, famous after the Gangnam style song a couple of years ago). Most of the tourist highlights are north of the river. If you follow the directions that come with the map with the Discover Seoul card, it is really easy to find the museums/palaces etc (check for subway exit numbers on the Discover Seoul Pass Map).
Tips from the Local Secretariat
Visa
Foreigners entering Korea must have a valid passport and visa. Visitors from 103 countries wishing to enter Korea temporarily are permitted to do so without a visa according to the visa-exemption agreements. Please contact the Republic of Korean Embassy in your country to receive accurate information on visa regulations.
Currency
Unit : Korean Won (KRW), ₩
Coin denominations : ₩10, ₩50, ₩100, ₩500
Bank notes : ₩1,000, ₩5,000, ₩10,000, ₩50,000
Electricity
Phone calls
Dialing out of Korea : 001
Country Korea : +82
Emergency Numbers
Police : 112
Fire & Ambulance : 119
Medical emergencies : 1339
Useful Websites
Travel Guide Brochure